OUR RATING SYSTEM
MINT CONDITION
MINT rating means there are slight to no blemishes or marks in the finish, decals and labels are intact and in excellent to like new condition, keys are in like new condition, platen is new or recovered, all metal interior parts are free from corrosion, all rubber components are new


EXCELLENT CONDITION
EXCELLENT rating means there may be minor paint blemishes , decals and labels might show small defects, no worn keys, platens are new or recovered, all metal interior parts appear free from corrosion, rubber components are new









THE RESTORATION PROCESS
The following reconditioning steps are executed to restore beauty, functionality, reliability, and provide lasting value
Quality fully restored Typewriters are subjected to on average of 8-10 hours of restoration work per machine which is fully documented throughout the process. Our machines are NOT simply "serviced" (dusted, oiled and typed on).



Completely Dis-assemble all moving parts
poor
Subject to an ultra-sonic cleaning and thorough drying process to remove dirt, paper, fiber and built up oil causing performance

Review each piece and clean by hand more delicate parts

Replace damaged or worn parts with new, unused or identical parts from donor machines

Replace rubber components

Refurbish or replace platens

Replace In-feed and out-feed rollers

Replace carriage return lines

Polish and or touch up exterior body parts

Re-assemble machine, adjust and install new ribbon

Check machine operation through 30 minutes of continuous typing

Make final adjustments


BEWARE OF TYPEWRITERS THAT SAY THEY HAVE BEEN SERVICED AND OILED...THESE ARE PRECISION MACHINES AND WERE NOT MEANT TO BE OILED...THE OIL WILL MIX WITH PAPER FIBERS AND CORRECTION FIBERS AND BECOME GLUE. IF A TYPEWRITER HAS TO BE OILED TO WORK, THERE IS SOMETHING WRONG

WHEN SHOPPING FOR A VINTAGE TYPEWRITER ONE OF THE FIRST QUESTIONS YOU SHOULD ASK ANY BUSINESS OR INDIVIDUAL IS IF THE PLATEN AND THE INFEED AND OUT-FEED ROLLERS HAVE BEEN REPLACED. THE PLATEN AND THE FEED ROLLERS SIGNIFICANTLY EFFECT HOW THE TYPEWRITER WORKS. THEY EFFECT THE TYPE QUALITY, SPEED AND FEEL OF THE TYPEWRITER. THERE IS NEVER…NEVER ANYTHING YOU CAN DO TO 50+ YEAR OLD RUBBER TO MAKE IT WORK WELL AGAIN. WE HAVE SEEN MULTIPLE "TRICKS" PEOPLE HAVE TRIED TO EITHER RECONDITION OR CHANGE THE PLATENS. THIS IS NOTHING BUT POOR BUSINESS PRACTICE. THESE ITEMS SHOULD ALWAYS BE REPLACED


A FAMILY OWNED BUSINESS FOR 43 YEARS...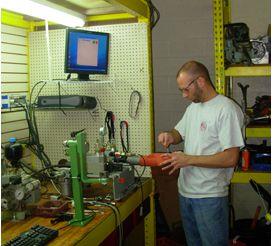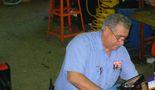 FAST AND FRIENDLY SERVICE...REASONABLE SHIPPING RATES...WE COMBINE SHIPPING ON ALL ITEMS THAT CAN SHIP TOGETHER...NEW ITEMS LISTED DAILY


NOTE ABOUT OUR TYPEWRITERS:
WE SELL ONLY QUALITY, FULLY RESTORED TYPEWRITERS. MANY PLACES SELL MACHINES THAT ARE"SERVICED", WHICH CAN MEAN THEY ADDED OIL, DUSTED IT OFF, AND HAVE TYPED WITH IT. OUR MACHINES ARE "PROFESSIONALLY RESTORED". OUR TYPEWRITER SPECIALIST ARE FACTORY TRAINED, RETIRED SERVICE PEOPLE. THEY TAKE EVERYTHING APART, CLEAN, REPLACE WORN PARTS, ASSEMBLE & ADJUST. THE AVERAGE TIME WE SPEND RESTORING A MACHINE IS 15-20 HOURS. TYPEWRITER REPAIR CAN GET COSTLY FAST, DON'T BUY A MACHINE THAT HAS NOT BEEN FULLY SERVICED. WE DOCUMENT OUR ENTIRE SERVICE PROCEDURE. OUR SPECIALISTS HAVE 20+ YEARS EXPERIENCE. YOU ARE BUYING A MACHINE THAT WILL LAST A LIFETIME, BUYING OURS WILL MAKE SURE IT WILL GIVE YOU YEARS OF CAREFREE SERVICE HERE ARE SOME EXAMPLES OF WHAT WE DO
AFTER YEARS OF SERVICE DIRT AND PAPER FIBER COMBINE WITH OIL TO FORM A FILM THAT CAN CAUSE THE TYPEWRITER TO PERFORM POORLY NOTICE THE GRIME AND GUNK ON THE CARRIAGE MECHANISM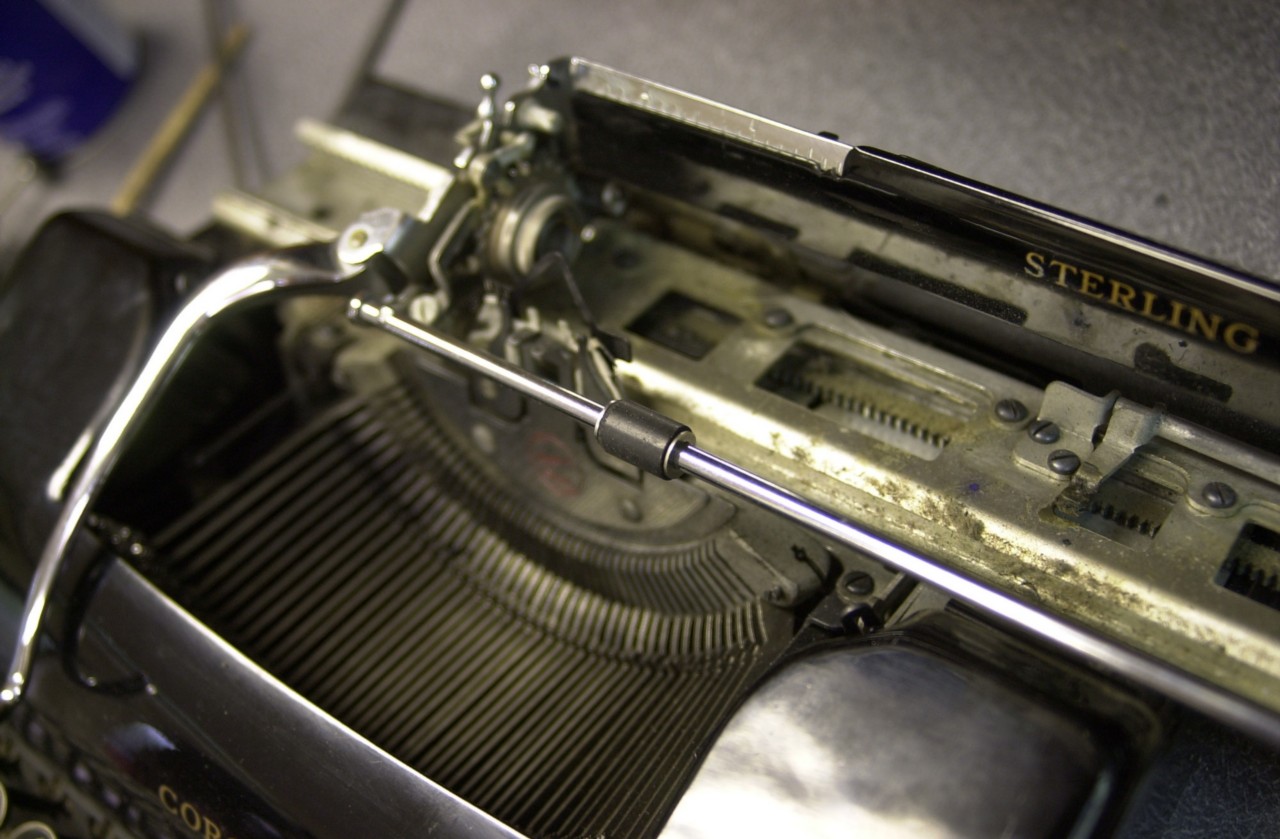 AFTER CLEANING IMAGE AFTER OUR CLEANING PROCESS THE CARRIAGE IS CLEAN LIKE NEW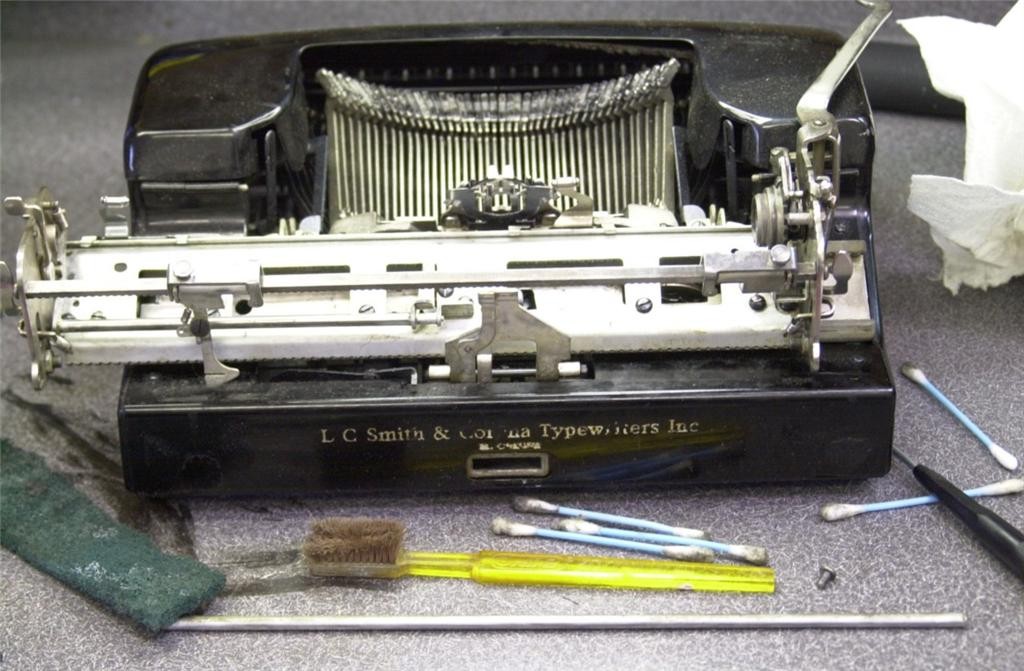 THE CARRIAGE IS MOVED BY A STRING CONNECTED TO A STRONG SPRING. ORIGINAL RETURN STRINGS WERE MADE OF A COTTON STRING AND ROT WITH AGE... WE REPLACE THEM WITH HIGHER STRENGTH NYLON CORD FOR A MUCH LONGER SERVICE LIFE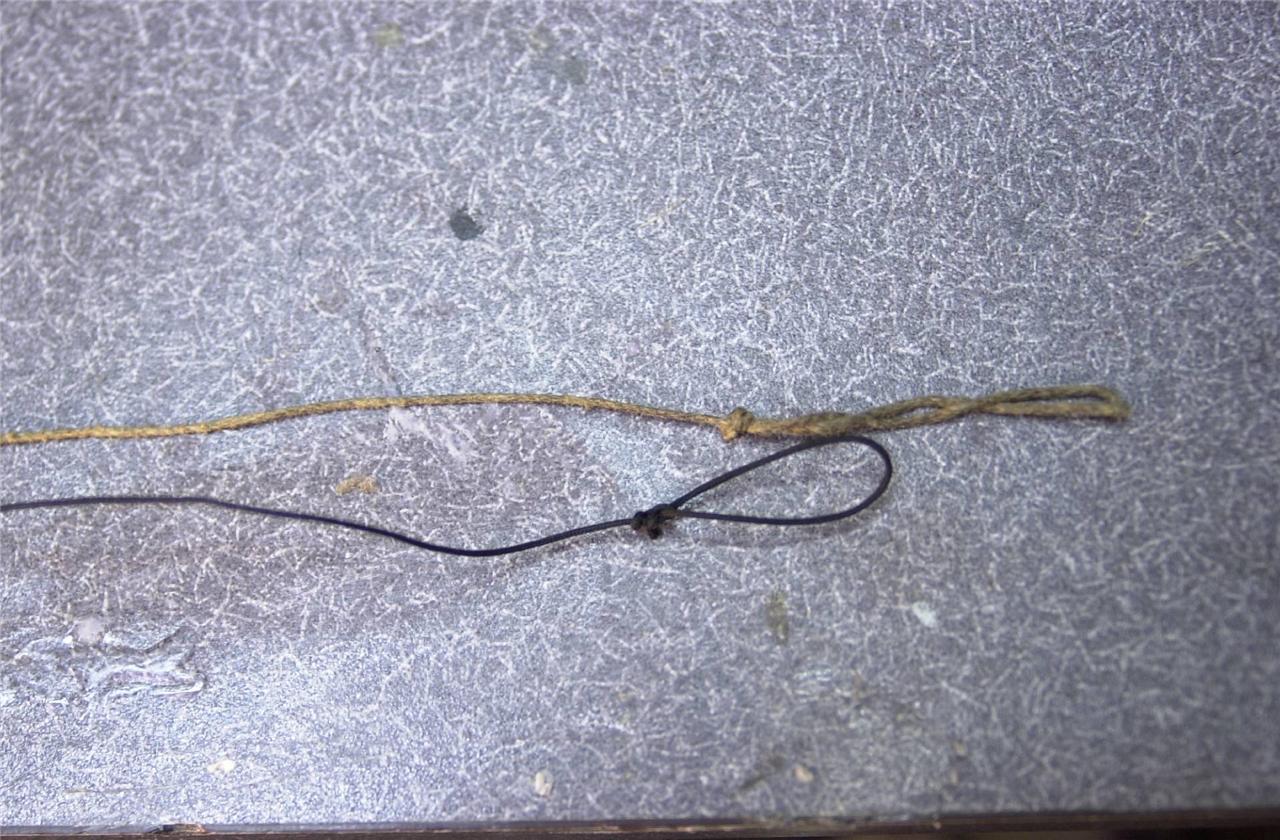 RECOVERING THE PLATENS IS AN EXPENSIVE AND TIME CONSUMING FEATURE, BUT MAKES A WORLD OF DIFFERENCE IN HOW THE TYPEWRITER WORKS

THIS PLATEN LOOKS GOOD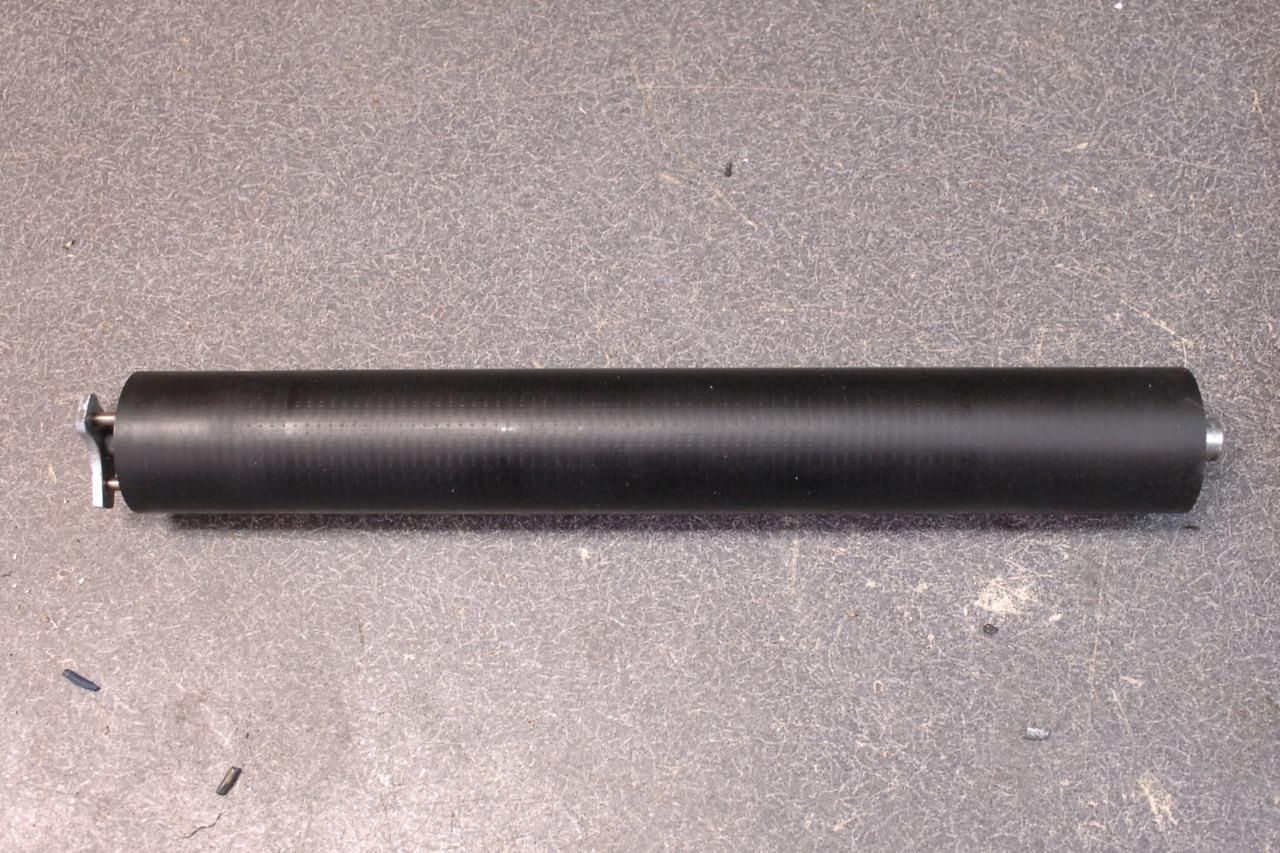 BUT IN REALITY IT IS NOT ----IF YOU HIT IT WITH A BLUNT OBJECT IT SHATTERS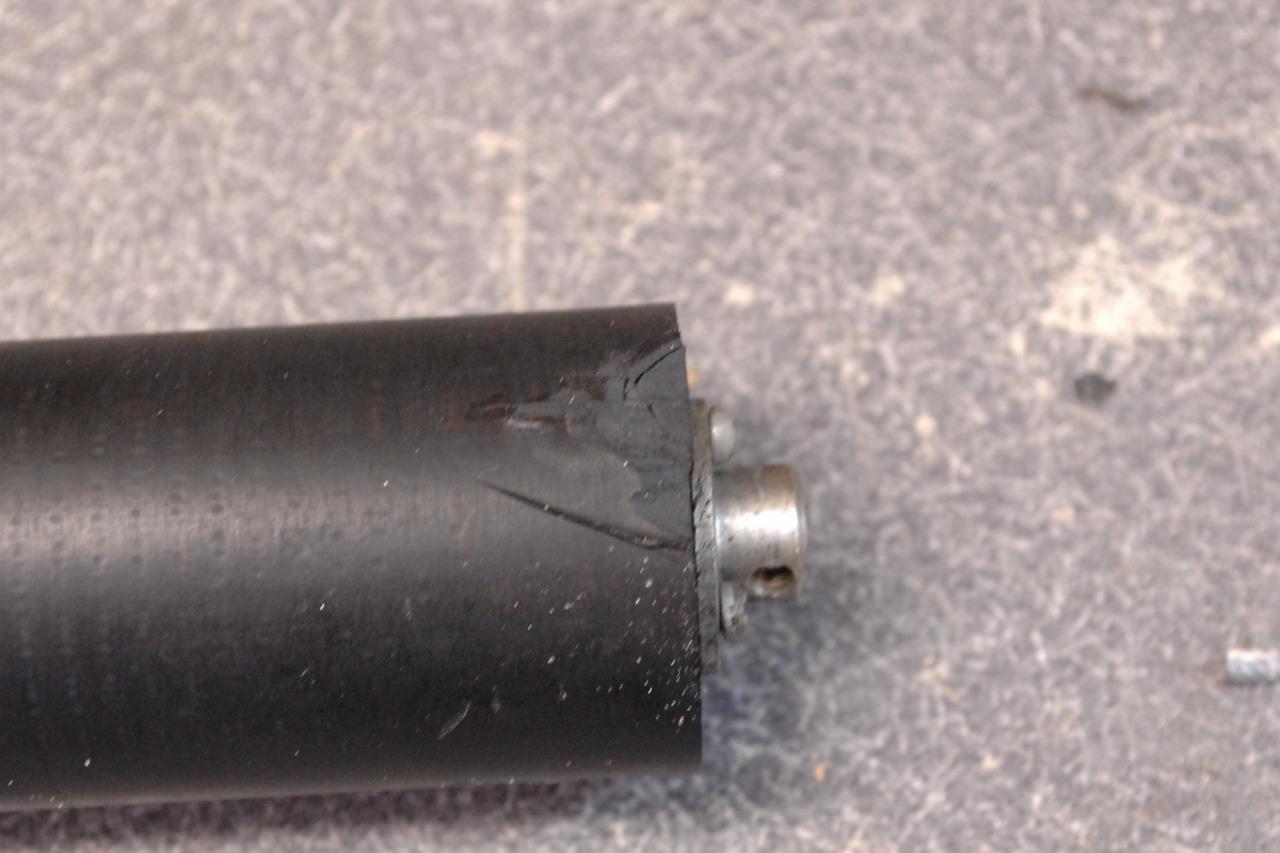 LOOK AT THE DIFFERENCE BETWEEN A USED AND NEW PLATEN
WE ALWAYS RECOVER ALL OUR PLATENS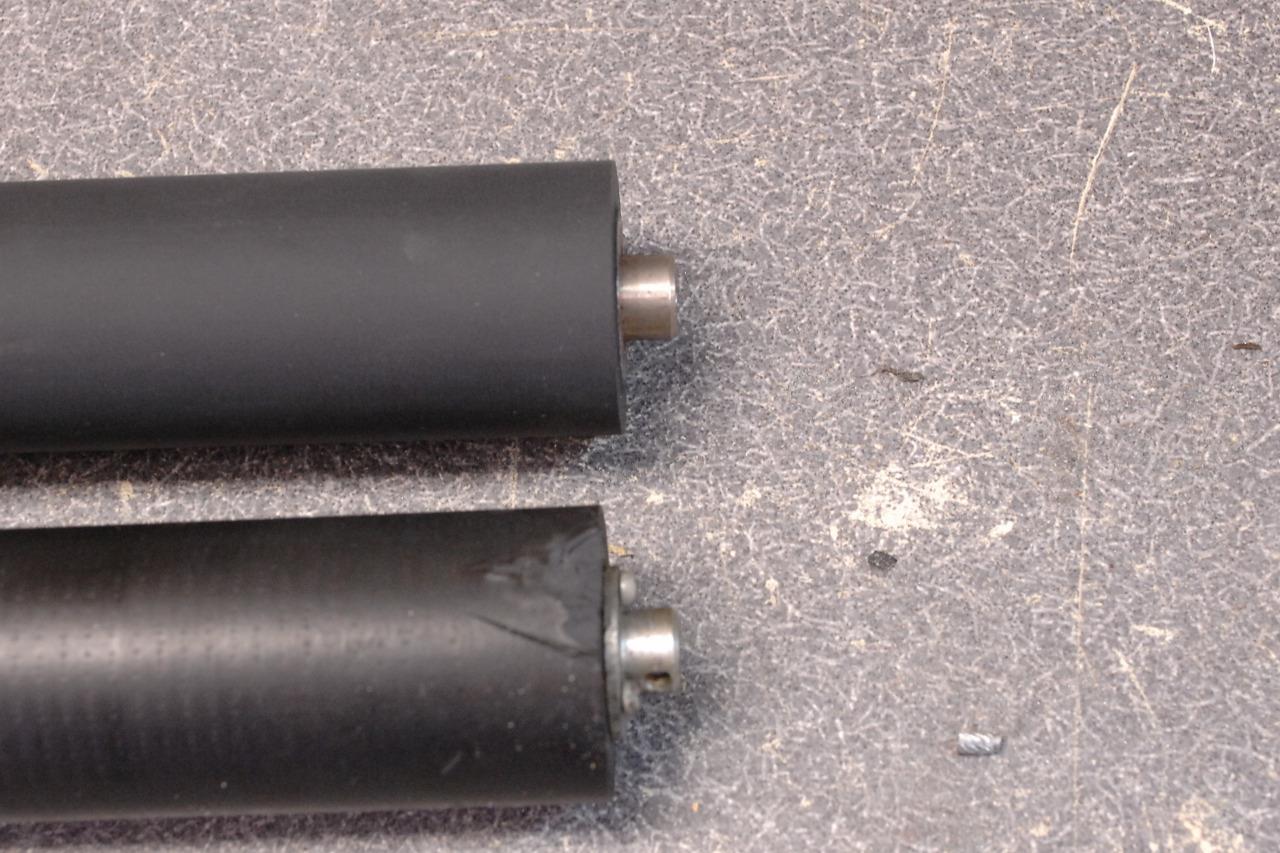 TYPEWRITER FEET GET HARD AND ROT, AND DEFORM WHEN YOU TRY AND TYPE ON THESE FEET THE TYPEWRITER WILL SLIDE AWAY FROM YOU AS YOU TYPE
WE REPLACE THE FEET WITH NEW SUPPLE RUBBER FEET
THE NEW FOOT IS ON THE LEFT, THE ORIGINAL ON THE RIGHT



DUST AND DIRT COLLECT EVERYWHERE ON TYPEWRITERS... WE CLEAN EVERY PIECE BEFORE REASSEMBLY
BEFORE NOTICE THE LARGE AMOUNT OF DUST AND DIRT ON THE TYPE TOUCH BAR IN FRONT OF THE KEYS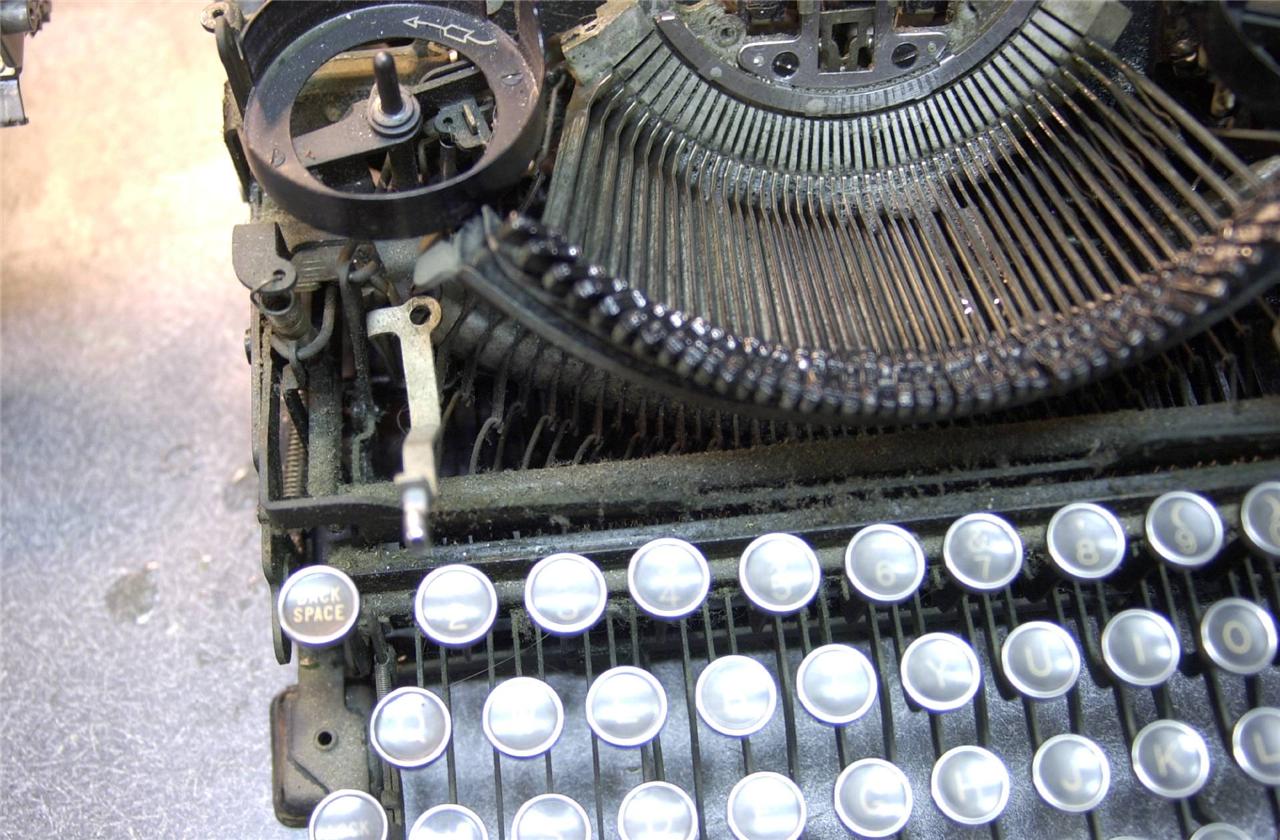 AFTER CLEAN LIKE NEW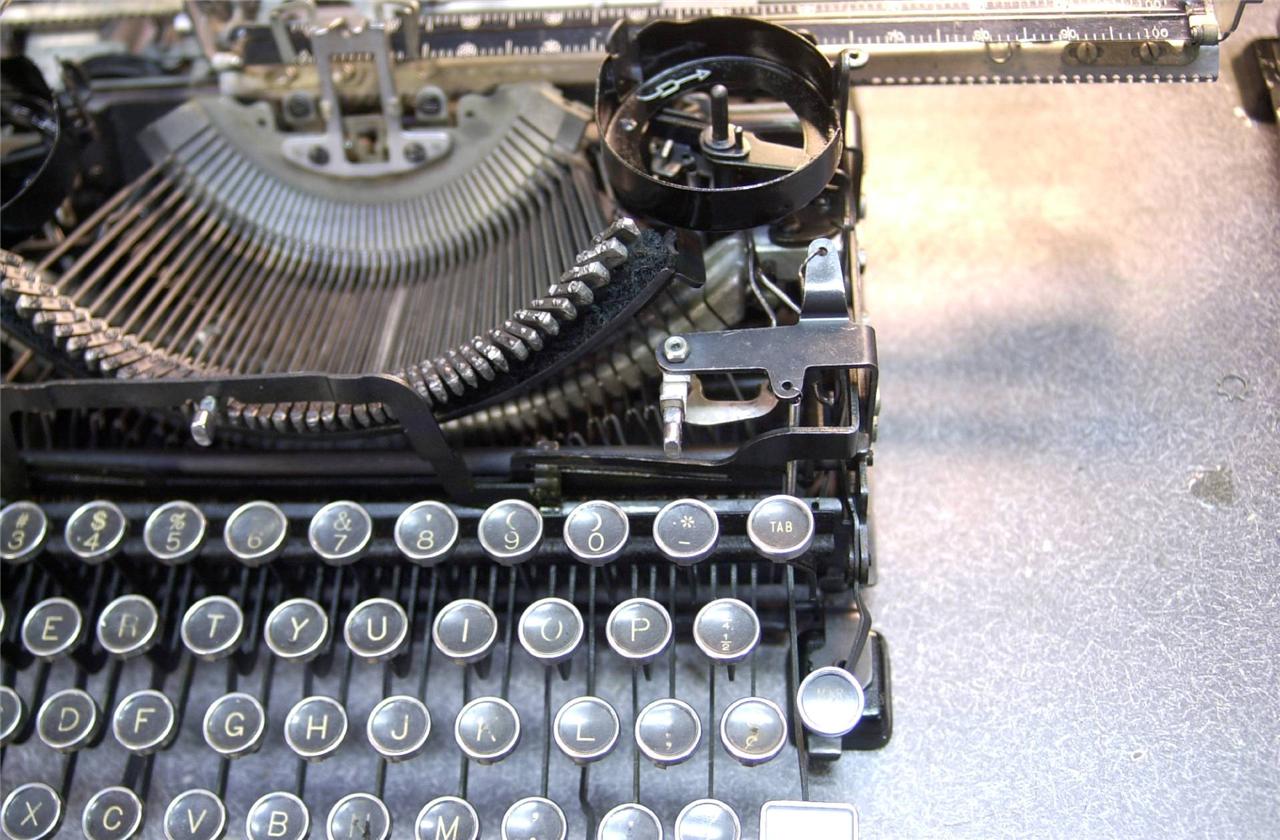 THIS ITHIS A HERMES 3000 REAR FRAME BEFORE CLEANING. THIS IS UNDER THE CARRIAGE AND NOT VISIBLE WITHOUT TAKING THE TYPEWRITER APART. THIS IS THE WAY MOST TYPEWRITERS LOOK AFTER 50 YEARS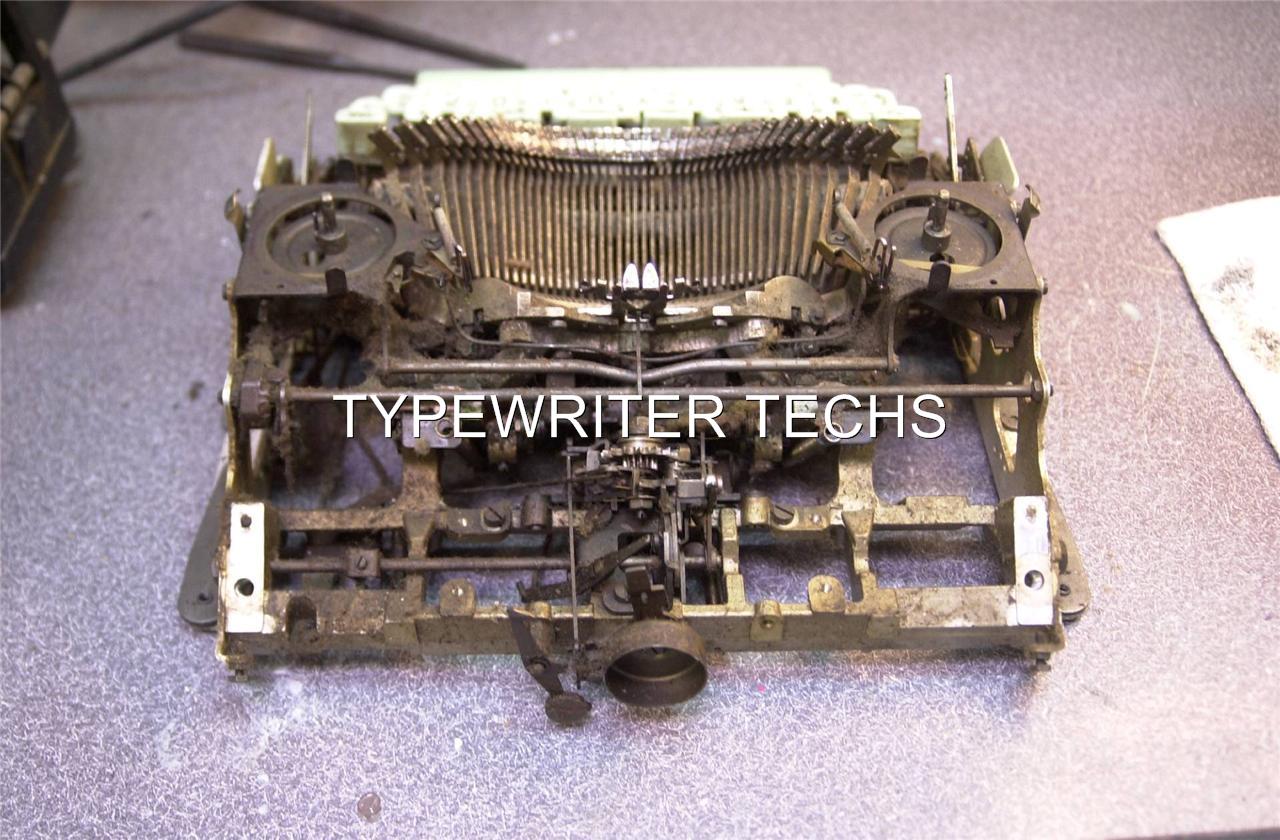 AFTER CLEANING LIKE FACTORY NEW...NO ONE DOES THE EXTENSIVE REFURBISHING THAT WE DO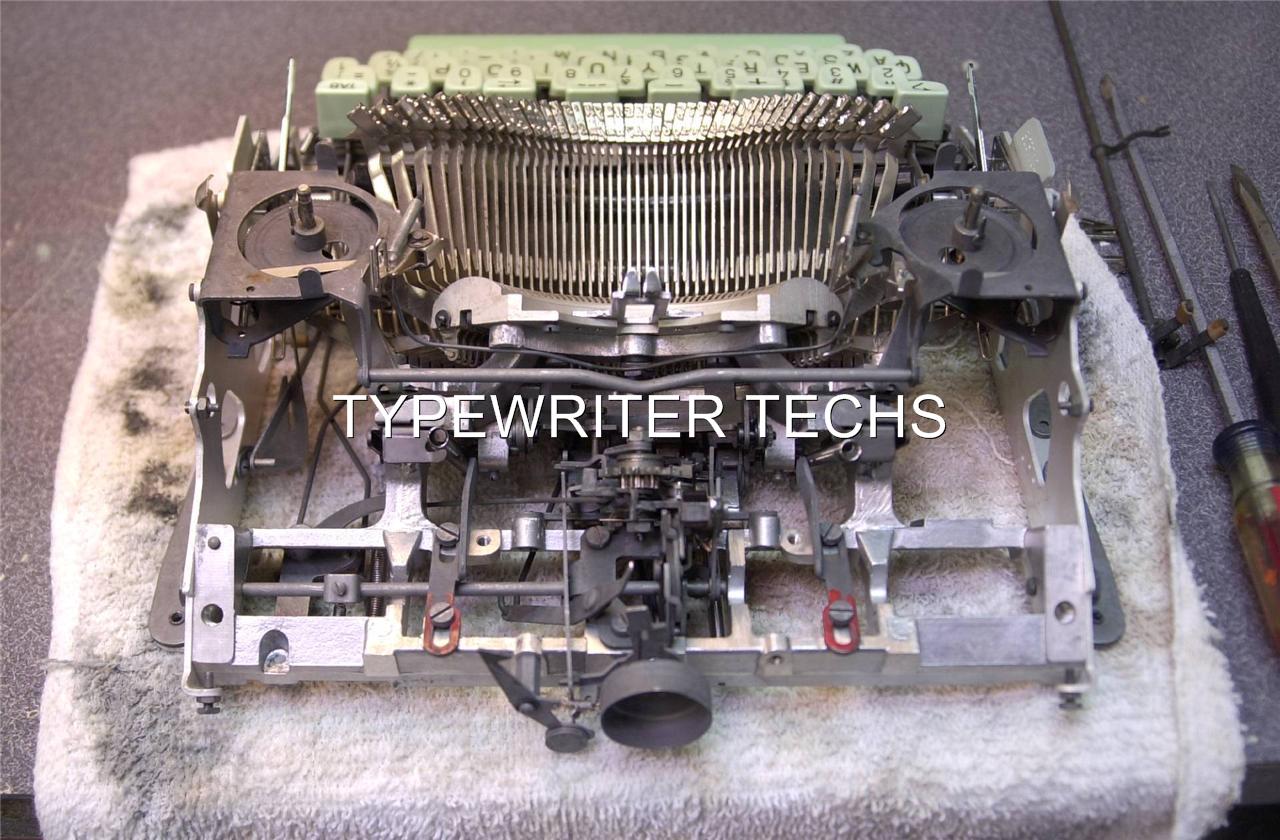 ALL OUR MACHINE GO THRU THE SAME SERVICING, CLEANING AND ADJUSTMENT CHECK LIST. THIS ASSURES YOU OF A QUALITY TYPEWRITER YOU WILL CHERISH FOR GENERATIONS



HERE ARE TWO OLIVER TYPEWRITER CARRIAGES
THE ONE IN THE BACKGROUND HAS NOT BEEN TOUCHED. THE ONE IN THE FOREGROUND IS FINISHED


ALL OUR MACHINE GO THRU THE SAME SERVICING, CLEANING AND ADJUSTMENT CHECK LIST. THIS ASSURES YOU OF A QUALITY TYPEWRITER YOU WILL CHERISH FOR GENERATIONS